项目特写
法国格朗德桑特

索恩照明与 Set Tertiaire 已帮助法国北部城市格朗德桑特将 810 盏钠街灯更换为高效能索恩 LED 灯,这项工程每年将节约超过 700,000 欧元的能源。
Thorn's lean, light and low-energy new LED floodlight.

This brand new LED high bay luminaire comes packed with cutting-edge features, including wireless control.

Certified for use in Europe, North America and China, Thorn's new Tonic range shows there's no need to compromise on colour quality for retail and hospitality lighting.
最畅销产品
Efficient LED spotlight range with interchangeable reflectors for spot and wide flood beam angles

The practical choice for slim and efficient direct/indirect lighting for T16 (T5) and LED

Highly efficient and economical downlight range with fire-rated variants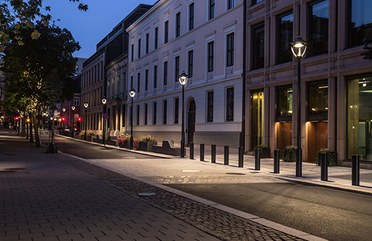 索恩照明的高效LED灯具和智能控制,让奥斯陆市区焕发新光彩。